Sydney, May 3, 2016 (Global Fashion Wire) - A recent article in The Atlantic,
The Unexpected Resilience of Humans in Retail
, shines a light on a guiding principle driving Demandware in 2016.
That is, automation and technology have not rendered sales associates irrelevant. On the contrary, the number of sales associates is growing, and represents about 6% of total US employment. But more importantly, as the article notes, store associates continue to be a crucial cog in the retail wheel because consumers believe that they add value.
"The business of selling things, especially things that need explaining, isn't so easy without people," it concludes.
Even things that don't need explaining, like paying for merchandise, cry out for human involvement. One need only consider long lines of fumbling consumers at self-checkout kiosks for evidence.
That's why Demandware is focused on empowering sales associates - the face of your brand - with technology that enables them to better serve the consumer.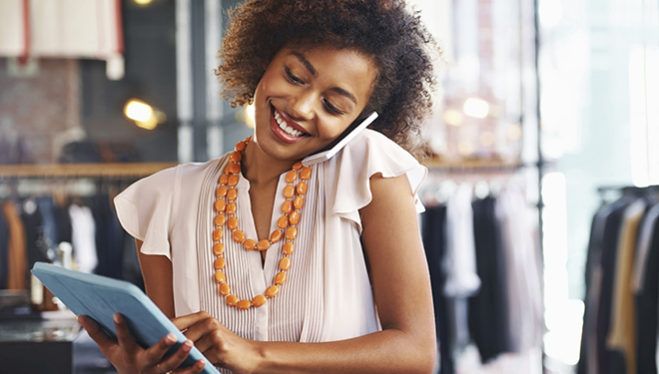 But what does that really mean?
It means making it simple and seamless for associates to assist customers throughout the entire engagement process.
Demandware Store
, which will be generally available later this year, is a point-of-sale and store operations solution enabling associates to execute transactions, returns and exchanges, wherever they are, with full tendering, inventory lookup and assisted selling capability. (See image below of recent presentation on Demandware Store)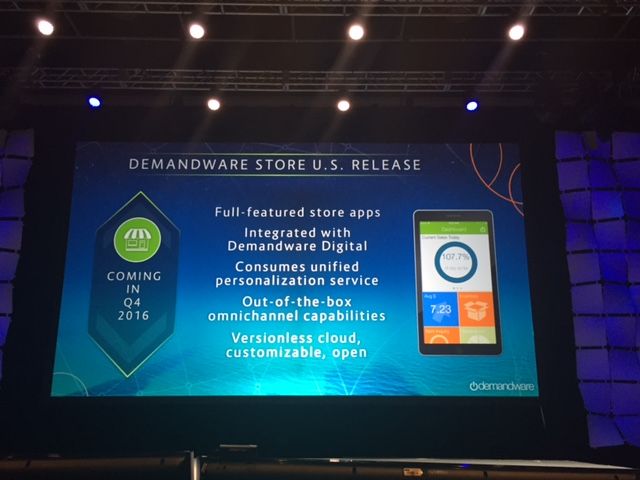 Digital Store Solution is a mobile app that provides a way for retailers to sell online inventory from the store, and prevents walked sales and enables flexible buying options including endless aisle, click and collect and shipment from another store.
"The digital world is infiltrating brick and mortar stores, where consumers want full transparency on the products, pricing and availability of the items being sold," wrote Boston Retail Partners in a 2016
customer engagement survey
. "Miss a step and on any of these data points and your customer can immediately shop the competition, even while in your store. This is the new normal."
Some leading retailers have already embraced this evolution. Some examples:
True Religion, a premium denim company, wowed attendees at Demandware XChange with an
Apple Watch app
where associates scan inventory on their watch, and beam the data onto a large interactive in-store display.
ECCO Shoes in late 2015 rolled out Digital Store Solution to all its US stores, not only preventing walked sales with an endless aisle app but also gleaning crucial POS information about shopping behavior that helps the brand cater to customers on a store-by-store basis.
Stores, where more than
92% of retail sales
take place, will be modernized, digitized and revolutionized by consumers who demand the same level of convenience and personalized service they get online.
It's an area of significant investment and focus for Demandware, and is a cornerstone of our
unified commerce
strategy. It's also what's driving a dramatic shift in the role of the store associate; upon whose shoulders the success of retailers' omnichannel strategies lie.
At our XChange conference recently, attendees heard repeatedly from retailers including vineyard vines, The Limited, Party City and Carter's, about the importance of empowering associates, giving them the tools and training they need to be successful and service customers in a 360-degree fashion.
So while some may express surprise at the resilience of humans in retail, Demandware recognizes the outsize importance of stores in modern retailing, and is working tirelessly to empower - there's that word again - our retailers to deliver unified commerce experiences that shoppers demand.
View source article By Lisa Lee on Demandware @:
Why Stores (and Associates) are More Important Than Ever
Buy It Now - Distributing Commerce Beyond Web & Store:
Grupo Cortefiel First Spanish Retailer to Launch on Demandware:
Author:
Lisa Lee
Demandware

Media & Public Relations:
Demandware PR
T: +1-781-425-7624
E: PR@demandware.com
| | |
| --- | --- |
| | Related Industry Topics: |
| | |
| --- | --- |
| | This Page Viewed: (Last 7 Days: 16) (Last 30 Days: 76) (Since Published: 10512) |