Sydney, Mar 31, 2016 (Global Fashion Wire) -
Chic Petite Events
are pleased to announce its latest event 'Creatives Uncovered' to be held in April.
Creatives Uncovered
is a link-up event platform for small business owners, graduates, entrepreneurs and sole traders to meet the creative industries that are vital in getting a business off the ground.
It's all about collaborations & connections between industry leaders and nurturing go getters, with an added combination of live music, catwalk fashion show, art & photography exhibition, beauty, networking & shopping. Our passion is connecting you creatives with the right people and creating exposure as well as generating sales & future clients.
This event is 4 times a year in various location in Sydney featuring different creatives at each event.
APRIL 7 EVENT SHOWCASING
Fashion Catwalk collections by:
- Black the Label
- MTD Clothing
- VoeurnChea
- Rochelle Moore Designs
- Etone Design
- Runway Ready Fashion
Creatives showcasing:
- Wrap it with Mary
- Shannons Photos
- Natalie Tso Art
- Jamberry Nail art by Fiona Gourlay
- Art by Patricia Ward
PRESS SPOTLIGHT:
Black the Label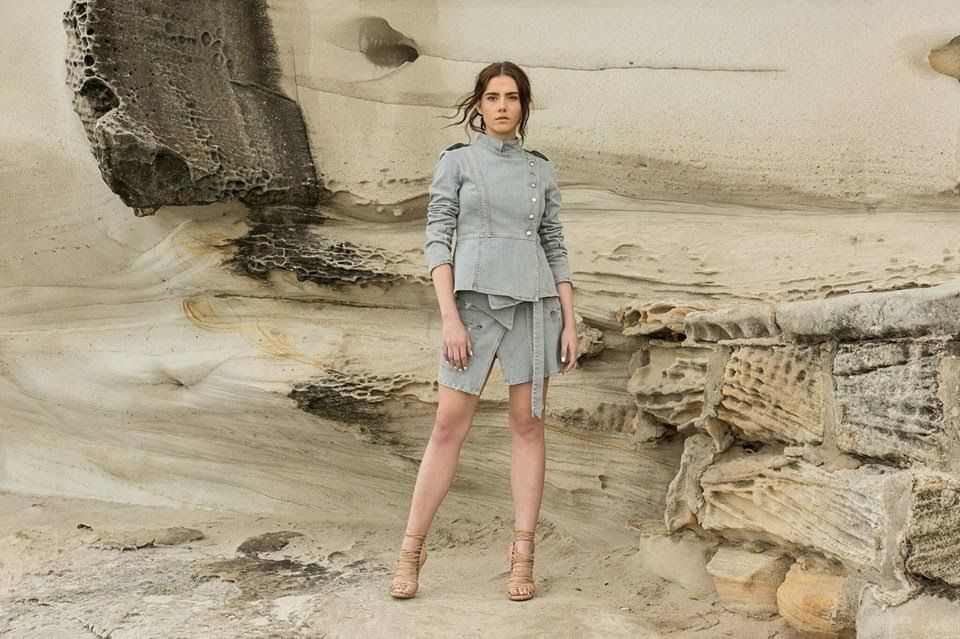 BLACKthelabel was born from an idea to create a luxe contemporary label for the everyday woman focused on versatility with a cool effortless tone. Co- Founders, Stephanie Malizis and Stephanie Neville wanted to create pieces that are wearable but with the use of beautiful fabrications and a minimalistic aesthetic. This formula is what brought the concept of BLACKthelabel to life - creating a brand for women with pieces that will fit into their day to day lives the collections versatility caters to them all.
Patricia Ward
Patricia is an illustrative artist based in Sydney. Her work has featured in television series opening titles, animated music videos, magazine and book covers, cd art and street posters. With a keen interest in the exploration of colour, her work is vibrant and whimsical with a strong narrative.
FGB magazine will be awarding a prize to the most creative which is a photoshoot & creative editorial shoot worth $2500, plus magazine publication.
Please join this event at:
https://www.facebook.com/events/987638461306095/
Creatives Uncovered, Thursday 7 April 2016, 7pm
97 Quarry Street
, Ultimo, Sydney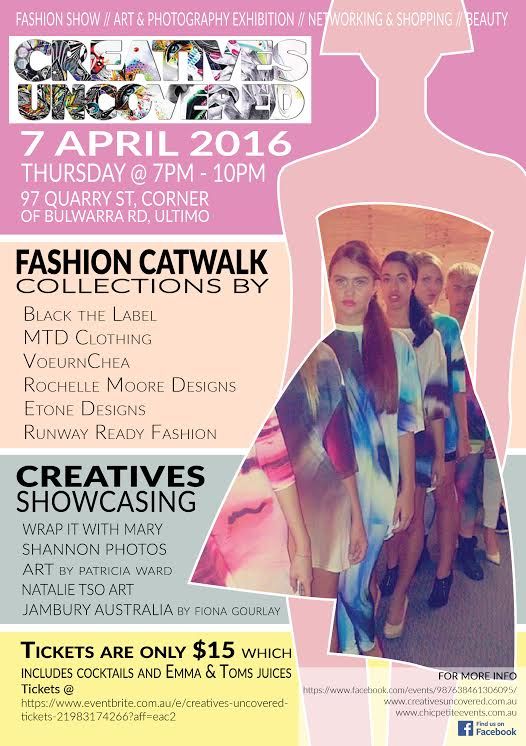 Fore more information visit:
www.creativesuncovered.com.au
www.chicpetiteevents.com.au
www.eventbrite.com.au/e/creatives-uncovered-tickets
Tickets are only $15 which includes cocktails and Emma & Toms juices.
Sharon Garrard
Chic Petite Events
E: chicpetiteevents@hotmail.com
http://www.chicpetiteevents.com.au
| | |
| --- | --- |
| | Related Industry Topics: |
| | |
| --- | --- |
| | This Page Viewed: (Last 7 Days: 15) (Last 30 Days: 98) (Since Published: 11343) |