New York, Feb 4, 2013 (Global Fashion Wire) - The Set NYC and JTS hosts Fall Fashion Week 2013 with an after party to benefit Freedom Ladder, a non-profit that helps end child sex-slave trafficking. Designers featured include Mercedes Benz Fashion Week designer Sheena Trivedi, Fashion Week 2012 designer Loraimy, and jewelry designer Antoinette Karma.
The event is Friday Feb 8, starting 11pm at Sea Meatpacking 835 Washington St, with celebrity DJ J Hooks and gifts from American Laser Skincare and Grand Central Beauty.
The event is hosted by International Model and Actress Maytee Martinez from Vogue Italia/Mexico, Victoria's Secret, Betsey Johnson, TV Show Model Latina South Beach, Top Model of the World Cuba 2013, America's Next Top Model, and Mercedes Benz Fashion Week.
Also hosted by Jocelyn Cattley from Ralph Lauren, NY Times, and Fashions Night Out; Ashley Rose, Fashion Editor from Latino Show Magazine; Asia Janina Dyrkacz from MAA Models Against Addictions; and special invited guest Pamela Rose Rodriguez from NBC TV The Voice. Special dancing from Team 2.0 as seen on Fox News.
The mission of Freedom Ladder is to stop child sex trafficking by interrupting a culture that sexualizes children and regards the human body as a commodity, and to transform that culture into one that treats all people with honor and respect. Freedom Ladder uses popular vehicles of education and entertainment, such as comic books, to educate at-risk children about the danger of sex trafficking and empower them to protect themselves and live lives of courage, power, and inspiration.
Designers Bio for Feb 8, Fall Fashion Week 2013 Party and Benefit
Sheena Trivedi Harmoniously blending influences from inspirations gathered during extensive travels throughout the East and West, Sheena Trivedi's debut collection is a masala of style from both the Empire State and her Eastern heritage. Designed in New York City and manufactured in India, Sheena Trivedi blends luxurious Indian fabrications and styling with Western silhouettes, creating designs that are sophisticated and daring yet wearable. Jewel-toned silks and handmade brocade are paired with leather jackets and exposed zippers; oversized hoodies and studs dance with georgette and chiffon. Sheena Trivedi SS 2013, exotic collection can be fashioned as complete looks for the luxury label lover or mixed and matched for city chic style. www.sheenatrivedi.com
Loraimy Rodriguez is a New York based Fashion Designer. Being born in the Dominican Republic and raised in both Puerto Rico and New York has given her the opportunity to be inspired by the diversity that surrounds her. www.loraimy.com
Antoinette Karma styles are influenced by elements of nature, pop art, art deco, Victorian history, pop culture, and world culture. www.houseofantoinette1950.com
Media Contact:
Pim Shih
T: +1-732-533-3362
E: pim@thesetnyc.com
The Set NYC holds events in New York City to support the growth, healing, and connecting of NYC through art, music, fashion, film, and events. We welcome media correspondence and potential partnerships to Sea Meatpacking (835 Washington St) on Feb 8, 2013 evening beginning 11:00 PM. Visit www.facebook.com/setnyc.
Justin T Shockley is an internationally published fashion photographer and New York Times freelancer. He is also a fashion commentator as seen on Huffington Post Live. Mission Statement: Create beauty. Do justice. Love mercy. www.justintshockley.com.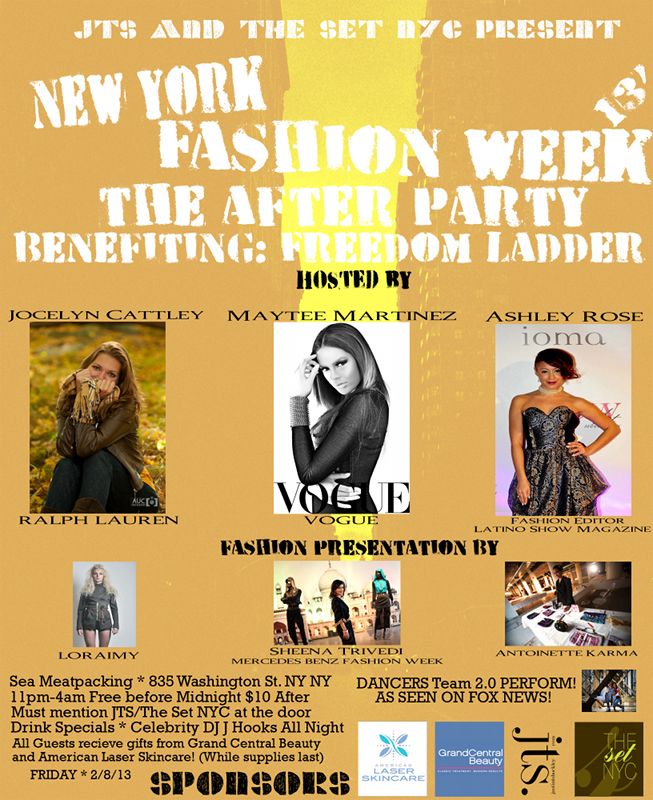 Media Contact:
Pim Shih
T: +1-732-533-3362
E: pim@thesetnyc.com
| | |
| --- | --- |
| | Related Industry Topics: |
| | |
| --- | --- |
| | This Page Viewed: (Last 7 Days: 9) (Last 30 Days: 58) (Since Published: 26382) |