London, May 23, 2012 (Global Fashion Wire) - As Wedding Season comes into full swing and Royal Ascot soon approaching, the celebration of the Queen's Diamond Jubilee what other place could
Ilda Di Vico Couture
choose to do a photo shoot. I am very proud to be based here in the Royal Borough and wanted to take full advantage of the architecture and history of Windsor.
The castle itself is the oldest & largest occupied in the world and it is very rare that a member of the Royal Family is not in residence. Built in 1070 by William the Conqueror and has been inhabited continuously for nearly a 1000 years. The castle itself is typically British and it's looks are iconic. Over the years it has been renovated and modified by a number of Monarchs, the biggest happening after the fire of 1992. The renovation after this took 5 years at a total cost of 37 million pounds.
What better back drop could you possibly ask for, Modern & New Meets Old.
Ilda Di Vico Couture is Designed and manufactured in the UK, Ilda has been producing
unique collections
for seven years. Each Ilda Di Vico piece is designed and hand crafted in Ascot Berkshire using high-grade materials sourced from the UK.
Swarovski crystals
and semi precious stones are also used within the collection. Ilda's strong signature designs showcase modern and classic styles and her pieces have become collector's items throughout the world.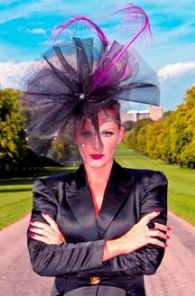 "Each piece I design is a product of the love of my craft. The main function of any piece I design is that of total wear-ability. It's so pleasing that a piece of mine can be worn season after season giving the customer timeless joy. I hope that my designs of today will be the designs of tomorrow."
Ilda has collaborated with key British fashion designers over the last few years, creating signature pieces featured in London Fashion Week.
Ilda is the first choice for many British fashion stylists and magazine editors. Her millinery designs have appeared in two Royal Weddings, Celebrity weddings and christenings. The Ilda Di Vico Couture Collection is inspired by current international trends combined with classic references. This modern twist on classic and high fashion millinery will be a unique and spectacular addition in the UK fashion market.
For more information on Ilda Di Vico, please visit:
www.ildadivico.com
.
Gaetano Adinolfi - Agent
Email: gaetano@gaetanoadinolfi.it
Mob: +393358023985
| | |
| --- | --- |
| | Related Industry Topics: |
| | |
| --- | --- |
| | This Page Viewed: (Last 7 Days: 6) (Last 30 Days: 35) (Since Published: 6503) |