Perth, May 3, 2012 (Global Fashion Wire) - (
The Fashion Catalyst
) - Dreamtime, a
Savoir Faire Perth Fashion Week
initiative, showcased five extremely talented Indigenous labels; Deadly Divas, Eva Wanganeen, Bandi Bandi, Kaninda Designs and Buli-J, to which I expected the most creativity and in fact, was pleasantly more-than satisfied.
The quality and creativity that took to the runway was enough to shift me to tears at one point... as I nudged Scott-Patrick who sat beside me to calm me from a state I literally had no control over. It wasn't until I looked a little closer at other guests and saw that quite a few other front-rowers were just as touched as I was - then I knew that for most there that day, it was a dream coming to fruition all thanks to Sylvia Giacci.
Having later been told that there were touching stories that went with the show, such as one of the models literally coming from the streets to the runway, I realised the depth and degree as to how this one initiative would have a flow on effect for generations to come. This makes me very happy, much like the bold and intense scarves of designer
Eva Wanganeen
:
Bold and breezy high quality silks adorned as head scarves and batwings free flowed from models in a sophisticated and effortlessly stylish manner. Whether you want to warm the skin or wrap your hair and body, Eva Wanganeen has it covered with her sleek, stylish and subtle array of must-have scarves.
Next to strut in the series was
Deadly Divas
- delivering a daring twist on basics with a little something for every wardrobe. From Aboriginal inspired artist prints in maxi and asymmetric dresses, to complimenting headwear and gorgeous accessories, Deadly Divas is 100% Aboriginal owned and operated and offers something for everyone.
Move over Sass&Bide because there's a new denim label about to hit the big time... it's
Buli-J
and denim lovers be warned; you will fall in lust with the quality, cut and styles of this denim density.
Buli-J delivered an eye opening display of streetwear from hats and T's to my new found favourite figure flattering denim collection. Personally, I could think of nothing more than living the rest of my days in their jeans. Soon to be synonymous for premium, high-quality denim, Buli-J has set new standards.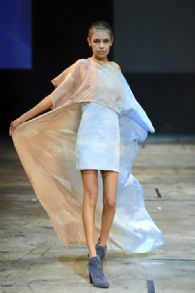 Then along came Kaninda Designs, creating tingles then and even now as I sift through my memory of collective thoughts on the resortwear collection. This striking label offered feminine, cultural and classic summer staples for the chic and modern woman - reveling in strong downtown details to die for.
Concluding the collective show was
Bandi Bandi
the swimwear label that aims to replicate the Bandi Bandi snake in providing stand out pieces with amazing prints and high quality crowd pleasing finishes to flatter the physique when bathing and basking in the sun.
View more articles by
The Fashion Catalyst
.
To receive daily updates on the latest in fashion,
Subscribe to GFW
.
Vicky Sofield
Editor
The Fashion Catalyst
E: info@TheFashionCatalyst.com
http://www.thefashioncatalyst.com
| | |
| --- | --- |
| | Related Industry Topics: |
| | |
| --- | --- |
| | This Page Viewed: (Last 7 Days: 4) (Last 30 Days: 43) (Since Published: 9453) |