Sydney, May 2, 2012 (Global Fashion Wire) -
Lauren Pottier
found enthusiasm for design as she watched her grandmother create garments on the body 'like magic' without patterns. As she made clothes for herself she would find people would stop her on the street commenting on the clothes she wore.
With that Lauren took on further education at East Sydney to develop her talent which was starting to flow naturally. Nearly 2 years ago Lauren opened her boutique in Cronulla where she now provides women with what they love to wear, filling a gap in clothing trends.
Now her locally hand made designs capture the stunning vibrancy of the natural environment.
Lauren's inspiration comes from the shapes and colours of the natural world and by chakra healing and colour therapy which she feels enhances and promotes a more confident inner being. This inspiration is conveyed in a diverse range of garments including swimwear, dressy casual, evening and bridal all complementing sensuality with recognition of the feminine essence.
Lauren has combined her connection to nature and the ocean with her fine tuned ability to tap into what women love to wear. The result is natural luxurious comfort and style which allows them to express the goddess within.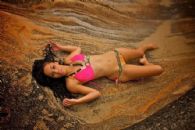 Lauren Pottier Swimwear
is available in a multitude of colours, fabrics and styles...
Experience the bliss as you delve amongst an array of unique clothing designs in
Lauren Pottiers boutique
in Cronulla, Sydney.
It's like exploring the depths of creativity... igniting your senses and invigorating your mind.
Also available online, these stunning pieces are starting to find their way around the world, with sales taking off in the USA as Lauren becomes acknowledged by a wider audience.
Her vision is to become an anchor for ladies who aspire to be their full potential. To achieve this, Lauren offers exclusive distributorship enabling ladies to do what they love (being involved in fashion design) whilst making a living.
The dream to help others evolve and follow their passions keeps Lauren open to the journey and opportunities as they arise.
Lauren Pottier design combines outer womanly wisdom and the goddess within.
LAUREN POTTIER
To receive daily updates on the latest in fashion,
Subscribe to GFW
.
Kindest regards
Lauren Pottier
http://www.laurenpottier.com
T: +61-412-326-555
| | |
| --- | --- |
| | Related Industry Topics: |
| | |
| --- | --- |
| | This Page Viewed: (Last 7 Days: 6) (Last 30 Days: 38) (Since Published: 5963) |